Chaji of "ICHIGO-ICHIE"
Treasure every encounter as if it were the one and only encounter of your lifetime.
CHOGETSU's original
What is "chaji of ICHIGO-ICHIE?"
Chaji of "ichigo-ichie" started so that guests new or familiar to the traditional Japanese tea ceremony experience could participate and have a wonderful experience with us.
We're sure you'll be satisfied with it.
CHOGETSU's original "chaji of ICHIGO-ICHIE"
You can check it out on youtube. Please take a look!
https://www.youtube.com/watch?v=LOANRry3spE
※CHAJI :  full length tea service including meal
※ICHIGO-ICHIE : Once-in-a-lifetime opportunity
Agenda of chaji (with guide)
《the first half》chaji of CHAHAN-GAMA  (ca 90mins)
Kumidashi (drinking hot water to get ready for the ceremony) – starting chaji at this point
Koshikake-machiai :  Waiting arbour (moving to the tea garden and waiting at koshikake)
Shoiri (entering the room of sahan-gama)
charcoal temae (prepare cooking the boiled rice)
Hifuki :  making a fire (hands-on experience)
meal time
omogashi :  taking Japanese seaonal moist confection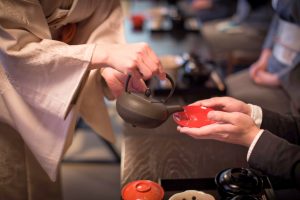 《the latter half》YU-ZARI CHAJI (evening tea ceremony style) (ca 90min)
Goiri (entering the yu-zari tea ceremony room)
Koicha : thick matcha (formal tea ceremony) → the main thick tea of the gathering
Higashi : dried confection (Greeting and introducing our staff members)
Usucha : thin matcha (taking thin tea while talking)
Coffee time
Leaving the room
Although it may be hard for you to imagine building a fire in a tea room, it represents the start to a good meal.
The first step is to place the charcoal into the furnace in preparation for the formal tea ceremony.
We build the fire with a bamboo blowpipe.(*1.*2)
This will also help cook the rice.
We use Chahan-gama which is made from iron and exclusively for cooking rice.
Guests will enjoy freshly cooked rice and Chakaiseki (the light meal served in the tea ceremony) with seasonal ingredients. (*3)
We will serve our home-made seasonal sweets after the kaiseki Meal. Guests will then have a short recess.
The latter part of chaji starts in the tea room with Japanese candles.
We also offer the experience of making matcha under the Japanese candle if requested.
We will guide you from beginning to end.
We serve coffee after the tea ceremony experience. Enjoy the coffee break!
For further details, link here→ Contact us http://chogetsu.jp/contact/
◇Length of chaji : Approximately 4 hours
◇Price : 55,000yen per person ( include tax, guide fees and gift are included)
◇Available for groups of three or more (one group a day)
◇Available hours : 10:00am-15:30am  (All other times can be discussed. / closed in July and August)
Depending on the number of people, the end time may change.
Feel free to ask us about open time when you make a reservation.
◇Reservation : We require reservations one month in advance
◇We also accomodate special occasions such as inbound, reception, social gathering, and business manners training.
We do not accept cancellations due to rain as our facilities are indoors.
YU-ZARI CHAJI and YOBANASHI CAHJI (evening tea ceremony) are available during the daytime if required.
Parking
Our Parking Facilities can accommodate up to 20 vehicles. ⇒access
Cancellation policy
We require 10days cancellation notice prior to your reservation date,
otherwise we will charge you a cancellation fee as below.
※0% of your total amount will be charged if you cancel before 11 days prior to your reservation date.
※ 100% of your total amount will be charged if you cancel from 10 to 1 days before the reservation date or No show.